Diejenigen von euch, die meinen letzten 12 von 12 Blogpost gesehen haben, wissen es ja schon: Wir sind für 2 Wochen nach Kreta geflogen. Und nun genießen wir das Inselleben und überhaupt die Abwechslung nach der langen Zeit mit eingeschränkter Reisefreiheit.
Those of you who saw my last 12 von 12 blog post already, know that: We flew to Crete for 2 weeks. And now we're enjoying life on the island and the new surroundings after a long time with limited freedom of travel.
Aber bevor es hier weitergeht mit einer Bilderladung aus Kreta, möchte ich mich ganz ganz herzlich bedanken bei allen, die sich beim allerersten Monatsspaziergang beteiligt haben und ihre Beiträge hier in den Kommentaren hinterlassen haben. Mir hat es großen Spaß gemacht, zu sehen, wie die Idee aufgegriffen wurde und euch bei euren Fotowalks begleiten zu dürfen.
Der nächste Termin zum Teilen eurer Spaziergänge ist Sonntag, der 21. August. Ich freue mich!
Ach ja, und für alle, die gerne über Instagram mitmachen möchten und keinen Blog haben: ich verlinke euch einfach mit eurem Instabeitrag- das geht ja auch 🙂 Häschtäg monatsspaziergang und monatsspaziergangimaugust .
But before I continue here with a load of pictures from Crete, I would like to thank everyone who took part in the very first "Monatsspaziergang" (Monthly Walk) and left their contributions here in the comments. It was great fun to see how the idea was taken up and to be able to accompany you on your photo walks.
The next opportunity for you to share your walks is Sunday 21st August. I am looking forward to it!
Oh, and for all those who would like to participate via Instagram and don't have a blog: I'll just link you to your Insta post – that's also possible 🙂 just use #monatsspaziergang and #monatsspaziergangimaugust.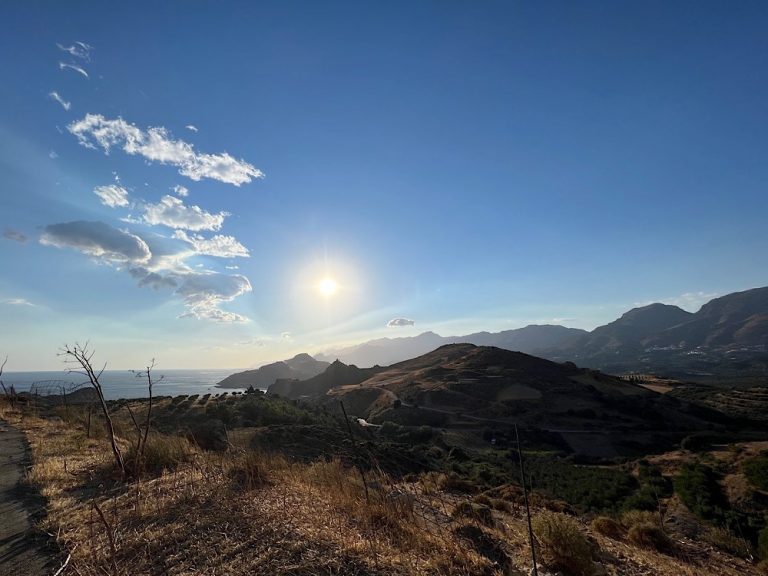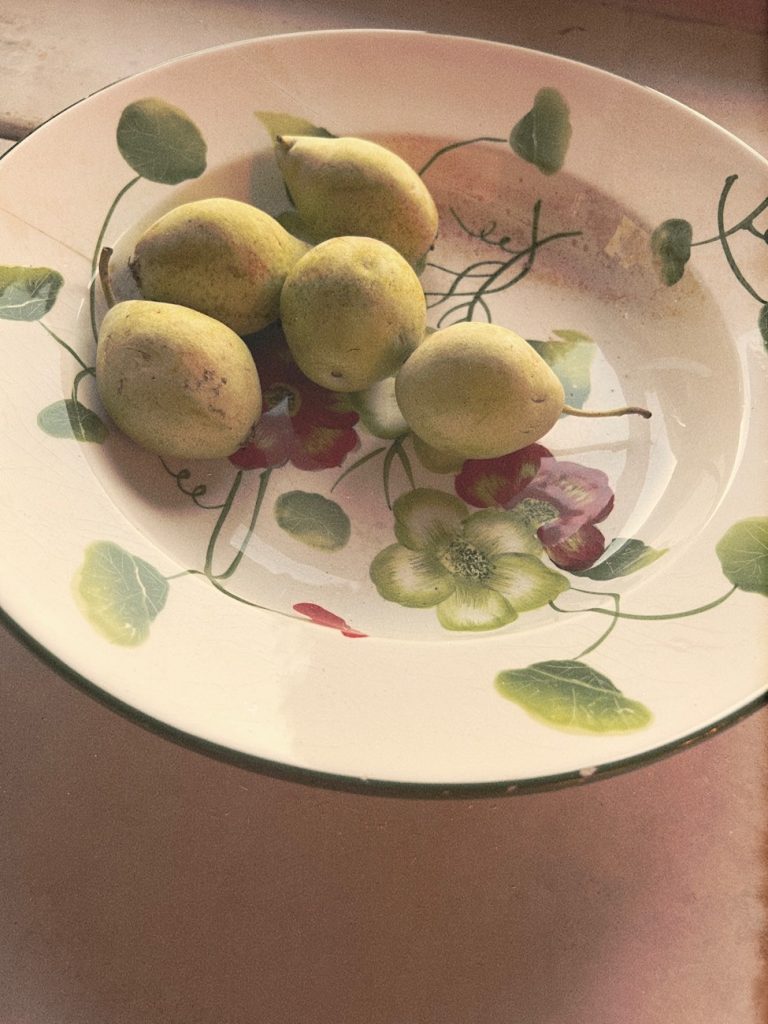 Aber nun zu Kreta. Das kleine Dorf Gianniou (13 Einwohner im Winter), wo sich unser Feriendomizil befindet ist ganz in der Nähe von Plakias, dem zentralen Badeort in der Gegend. Alle Bilder, die ihr hier seht, sind im oder in Dorfnähe sowie an verschiedenen Stränden in der näheren Umgebung entstanden.
But now Crete. The small village of Gianniou (13 inhabitants in winter) where our holiday home is located is very close to Plakias, the central seaside resort in the area. All the pictures you see here were taken in or near the village and on various beaches in the neighborhood.
Als Inselbewohner ist das Spielen am Strand ja eigentlich nicht so etwas besonderes für die Jungs, die Tatsache, dass sie sich dabei unbeschwert mit Klamotten in`s Wasser stürzen können, ohne zu frieren, allerdings schon!
As islanders, playing on the beach isn't really that special for the boys, but the fact that they can throw themselves into the water with their clothes on without freezing is, great however!
Auch wenn das Preisniveau für Speisen etc. allgemein etwas höher ist, als ich erwartet hatte (in Anbetracht der allgemeinen Lage natürlich keine Überraschung), geniesse ich es doch sehr, daß sich die Selbstversorgung in Grenzen hält und wir regelmässig auswärts essen.
Even if the price level for food etc. is generally a bit higher than I expected (of course no surprise given the general situation), I really enjoy the fact that self-catering is limited and we eat out regularly.
Oskar und Leo haben sich mit diesem vierbeinigen Dorfbewohner angefreundet…
Oskar and Leo have become friends with this four-legged villager…
Die Hunde des Dorfes sind allerdings definitiv nicht skandinavisch sozialisiert. Oskars Turnschuh fand sich nach längerer Suche in angenagtem Zustand im Dorf wieder 🙂
Also nix mit Schuhe ausziehen vor der Haustür…
However, the dogs in the village are definitely not socialized in a Scandinavian way. After a long search, Oskar's sneaker was found in the village in a gnawed condition 🙂
So don't take off your shoes before entering the house…
Eine der drei Straßen in Gianniou.
One of the three streets in Gianniou.
Im Sommer sind die meisten der Pflanzen bereits wieder verblüht und vertrocknet. Einige wenige Büsche blühen allerdings noch. Es war an diesem Tag extrem windig. Dieses hier ist das brauchbarste Bild, welches ich mit meinem Iphone einfangen konnte. Für Insektenbestimmungsapps leider zu unscharf. Aber ich glaube, es handelt sich um eine Blaue Holzbiene (Xylocopa violacea)?
By summer most of the plants have already withered and dried up. A few bushes are still blooming. It was extremely windy that day. This is the most usable image I was able to capture with my iPhone. Too fuzzy for insect identification apps. But I think it's a violet carpenter bee (Xylocopa violacea)?
Und diese junge Gottesanbeterin (Mantis religiosa) hatte der Dauersturm wohl vor unsere Haustür geweht.
And this young praying mantis (Mantis religiosa) must have been blown to our doorstep by the constant storm.
Hier seht ihr einen der unzähligen "Krachmacher", die zu der typischen Hintergrundgeräuschkulisse auf Kreta beitragen: Zikaden. (cicada cretensis)
Here you can see one of the countless "noisemakers" that contribute to the typical background noise on Crete: cicadas. (cicadae cretensis)
Auf unserem Weg zum Abendessen habe ich diese Panoramaaufnahme gemacht. Man beachte die graue "Wolke" links am Horizont…
I snapped this panoramic shot on our way to dinner. Note the gray "cloud" on the left on the horizon…
Später am Abend sah das Ganze dann so aus. Feuer!
This is what it looked like later that evening. Fire!
Am nächsten Morgen: Auch hier hatte es in der Nacht gebrannt. Der Wirt der Taverne war die ganze Nacht auf den Beinen und hat bei den Löscharbeiten geholfen. Zum Glück konnte dieses Feuer noch rechtzeitig gelöscht werden.
Durch die Trockenheit im Sommer sind Flächenbrände in Griechenland keine Seltenheit, leider. Dieser hier wurde wohl durch weggeworfene Zigarettenkippen ausgelöst…
The next morning: There was also a fire here during the night. The owner of the tavern was on his feet all night and helped with the firefighting work.
Due to the drought in summer, wildfires are not uncommon in Greece, unfortunately. This one was probably triggered by discarded cigarette butts… Luckily the fire was put out in time.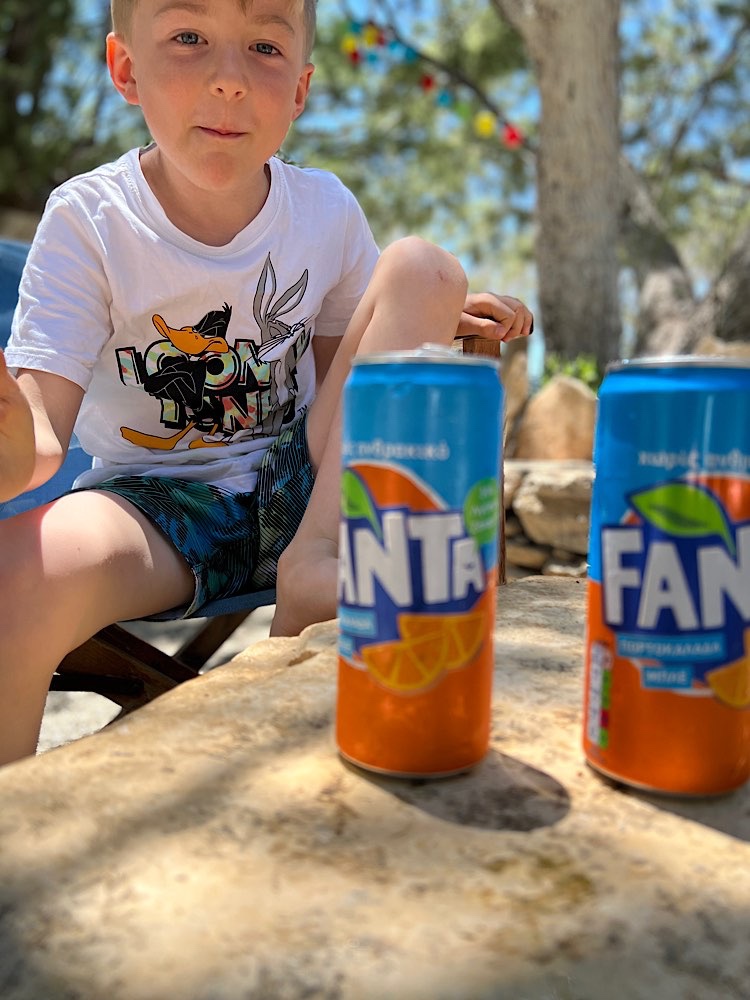 Ich glaube, das gibt es nur in Griechenland: Fanta ohne Kohlensäure. Fand ich vor 35 Jahren auch schon lecker 🙂 Genau wie Oskar jetzt. Die Dosen sahen damals allerdings anders aus.
I think that's only available in Greece: non-carbonated Fanta. I also thought it was delicious 35 years ago 🙂 Just like Oskar now. The cans looked different back then, though.
Viele Grüße von unserer Ferieninsel – ich hoffe, ihr habt ebenfalls einen schönen Sommer!
Bis bald!
Greetings from our holiday island – I hope you have a nice summer too!
I´ll be back soon.

Kristina