Gelliprinting oder Gelli Druck hat in den letzten Jahren die Ateliers von unzähligen Künstler*innen erobert. Die weiche Druckplatte aus transparentem Silikon ist einfach handzuhaben und ermöglicht unzählige Effekte des Monotypiedrucks. Lösemittelhaltige Druckfarben und eine Druckpresse sind nicht nötig. Durch die nachgiebige Konsistenz der Druckplatte lassen sich auch Materialdrucke von dickeren Objekten, wie zum Beispiel Pflanzenteilen abnehmen.
Ich persönlich besitze mehrere Platten der Firma Gelli Arts in verschiedenen Größen. Meine erste Platte habe ich 2013 gekauft. Sie war über die Jahre oft im Einsatz und ich bin immer noch sehr zufrieden damit. Für meine ersten Workshops habe ich allerdings immer Druckplatten für meine Teilnehmer*innen selber angefertigt. Ganz am Ende dieses Beitrags findet ihr eine Bildergalerie mit Ergebnissen aus vergangenen Kursen, die alle mit selbstgemachten Gelliplates entstanden sind.
Vielleicht kennt die eine oder andere den Gelli Druck ja noch nicht und möchte die Technik erst einmal ausprobieren, ohne gleich eine Platte zu kaufen? Oder ihr möchtet diese Technik gerne im Unterricht einsetzen und es ist kein Budget für die Anschaffung eines Klassensatzes an Silikonplatten vorhanden?
Ich habe euch im folgenden Beitrag zwei Rezepte für selbstgemachte Gelatineplatten aufgeschrieben und mit Anmerkungen sowie Tipps und Tricks zum Umgang damit versehen.
Gedruckt habe ich mit Acrylfarben.
Gelliprinting has conquered the studios of countless artists in recent years. The soft, transparent silicone printing plate is easy to handle and allows countless monotype printing effects. Solvent-based inks and a printing press are not necessary. Due to the flexible consistency of the printing plate, material prints can also be pulled from thicker objects, such as parts of plants.
I personally own several Gelli Arts plates in various sizes. I bought my first one in 2013. It has been used many times over the years and I am still very happy with it. For my first workshops, however, I always made printing plates for my participants myself. At the very end of this post you will find a picture gallery with results from past courses, all of which were created with homemade Gelliplates.
Maybe one or the other doesn't know the Gelli print yet and would like to try the technique first without buying a plate right away? Or would you like to use this technique in class and you don't have the budget to buy a class set of silicone plates?
In the following article, I have written down two recipes for homemade gelatine plates and provided you with comments as well as tips and tricks on how to use them.
I printed with acrylic paints.
Rezept für eine reine Gelatineplatte
Die hier abgebildete Platte hat eine Größe von 15 x 22 cm und ist ca. 2 cm dick.
Ihr benötigt dafür:       
ca. 50 Gramm Gelatinepulver, ich habe 5 Tütchen Gelatinepulver zu je 9 Gramm verwendet.  
500 ml Wasser
Gelatinepulver und Wasser einfach in einen Topf  geben, ca. 10 Minuten quellen lassen und dann unter Rühren erwärmen, bis sich die Gelatine aufgelöst hat. Nicht kochen!
Die Mischung in eine Form giessen und im Kühlschrank einige Stunden aushärten lassen.
Wenn die Platte fest ist, vorsichtig entformen und auf eine flache Kunststoffunterlage (wie zum Beispiel Plastikfolie oder ein Tischset) legen.
Reine Gelatineplatten können leicht brechen bzw. reißen, wenn sie zu stark gedehnt werden. Wenn ihr jemanden habt, der kurz helfen kann beim Umbetten der Platte- prima. Ihr könnt die Form mit Cellophanfolie auslegen und die Platte daran herausheben, um ein Einreißen zu vermeiden, wie mir das hier passiert ist.
Um zu vermeiden, daß sich Wasser auf der kalten Oberfläche niederschlägt, ist es ratsam, die Platte ca. eine halbe Stunde vor dem Drucken aus dem Kühlschrank zu holen. Je wärmer die Gelatine, desto instabiler wird sie. An warmen Tagen solltet ihr die Platte einfach zwischendurch in den Kühlschrank legen.
Die Gelatine ist im Kühlschrank einige Tage haltbar. Wenn nicht mehr weitergedruckt wird, bzw. die Gelatine verdorben ist, kann sie einfach im Biomüll entsorgt werden.
Ich habe bislang keine Erfahrung mit pflanzlichem Geliermittel. Falls jemand von euch auch mit veganen Platten experimentiert, schreibt gerne einen Link oder ein Rezept in die Kommentare, wenn ihr mögt 🙂
Recipe for a pure gelatin plate
The plate shown here has a size of 15 x 22 cm and is approx. 2 cm thick.
You need for this:
approx. 50 grams of gelatine powder, I used 5 sachets of gelatine powder, each 9 grams.
500ml of water
Simply put the gelatine powder and water in a saucepan, leave to swell for about 10 minutes and then heat while stirring until the gelatine has dissolved. Do not cook!
Pour the mixture into a mold and let it set in the fridge for a few hours.
When the plate is firm, carefully unmold and place on a flat plastic surface (such as plastic wrap or a placemat).
Pure gelatin sheets can easily break or tear if stretched too much. If you have someone who can help with re-embedding the plate, great. You can line the mold with cellophane wrap and use it to lift the sheet to avoid tearing it like I did here.
To avoid water condensing on the cold surface, it is advisable to take the plate out of the refrigerator about half an hour before printing. The warmer the gelatin, the more unstable it becomes. On warm days you should simply put the plate in the fridge in between.
The gelatine can be stored in the refrigerator for a few days. If you can no longer continue printing or the gelatine has spoiled, it can simply be disposed of in the organic waste.
I have no experience with vegetable gelling agents. If any of you are also experimenting with vegan plates, feel free to write a link or a recipe in the comments if you like 🙂
Drucken mit der reinen Gelatineplatte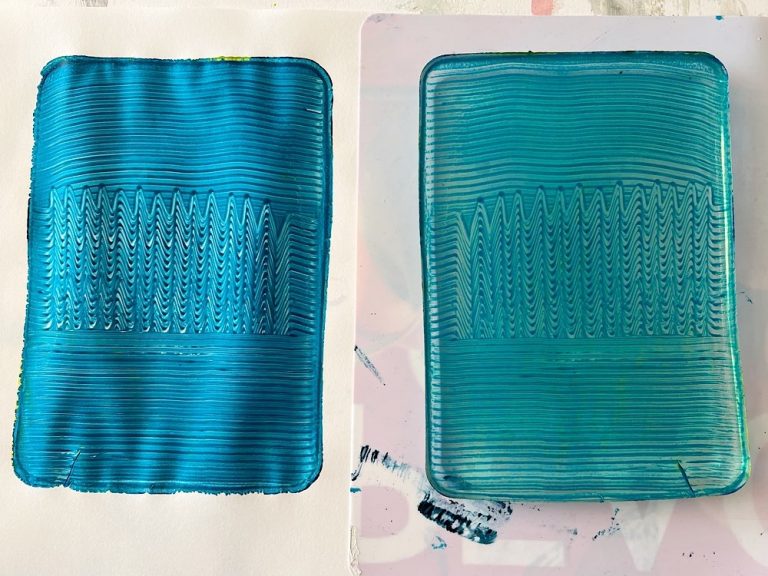 Die Plattenoberfläche ist empfindlich und etwas spröde. Daher solltet ihr aufpassen, wenn dickere, spitze Teile (wie zum Beispiel Pflanzenstängel) beim Abdrucken zu fest auf die Platte gedrückt werden – die Oberfläche kann verletzt werden. Flache Objekte, wie z. B. Papierschablonen eignen sich allerdings super.
Die Platten kleben so gut wie gar nicht- dadurch können Muster besonders schön mit Werkzeugen wie Spachtel oder Kämmen gezogen werden. Eine Reinigung ist gewöhnlicherweise nicht erforderlich, einfach solange mit sauberem Papier weiterdrucken, bis keine Farbe mehr abgegeben wird.
Die für die Gellimonotypie typischen mehrfarbigen Druckergebnisse, bei denen Reste vorangegangener Ducke mit der nachfolgenden Farbschicht zusammen abgenommen werden, lassen sich mit Platten aus reiner Gelatine auch erzeugen. Da (durch das in der Gelatine enthaltene Wasser) die vorangegangenen Farben nicht wirklich antrocknen, rate ich in diesem Fall, die Acrylfarbe immer auf einer separaten Platte auszurollen und die Gummiwalze gleichmässig mit Farbe zu bedecken, um ein zu häufiges Überarbeiten der Fläche zu vermeiden.
Bei den Silikonplatten kann die Farbe direkt aus der Flasche bzw. Tube auf die Platte gegeben werden um sie dann mit der Gummirolle zu verteilen.
Die beliebte Technik des Bildtransfers mit Gelliplatten funktioniert nach meiner Erfahrung nicht mit diesen Platten, zumindestens sind mir noch keine guten Ergebnisse damit gelungen.
Printing with the pure gelatin plate
The plate surface is sensitive and somewhat brittle. You should therefore be careful if thick, pointed parts (such as plant stalks) are pressed too hard on the plate when printing – the surface can be damaged. Flat objects such as for example cut out paper templates are great.
The panels hardly stick at all – this means that patterns can be drawn particularly well with tools such as spatulas or combs. Cleaning is not usually necessary, just keep printing with clean paper until no more ink comes of.
The multicolored print results typical of the gel monotype, in which the remains of previous prints are removed together with the subsequent layer of color, can also be produced with plates made of pure gelatine. Since the previous colors do not really dry (due to the water contained in the gelatine), I advise in this case to always roll out the acrylic paint on a separate plate and to cover the rubber roller evenly with paint in order to avoid overworking the surface too often.
With the silicone plates, the paint can be applied directly from the bottle or tube to the plate and then spread it with the rubber roller.
In my experience, the popular technique of image transfer with Gelli plates doesn't work with these plates, at least I haven't had any good results with them.
Rezept für eine haltbare Gelatineplatte mit Glycerin
Wenn ihr über einen längeren Zeitraum mit eurer Platte arbeiten wollt, gibt es Möglichkeiten, die Platten stabiler und länger haltbar zu machen. Besonders für mehrstündige Workshops ist das wichtig!
Im Internet finden sich viele Rezepte, die alle ähnlich sind. Es kommt hier nicht auf die Einhaltung exakter Mengenangaben an. Das folgende Rezept habe ich für meine Workshopplatten mehrfach verwendet und es hat sich für mich bewährt.
Für eine Platte ca. A4 benötigt ihr folgende Zutaten:
8 Tütchen Speisegelatine zu 9 Gramm
250 ml kaltes Wasser
125 ml Isopropylalkohol 70%
125 ml Glycerin
Alkohol und Glycerin bekommt man in der Apotheke. Bei grösseren Mengen wird es billiger, wenn ihr im Internet danach schaut.
Die Platte auf den folgenden Fotos hatte ich im Rahmen meines letzten Kurses Abends noch schnell gegossen, da sehr viele Fragen nach selbstgemachten Gelliplatten kamen. (In Dänemark sind Künstlermaterialien wesentlich teurer als in Deutschland) Ich hatte nur einfachen Spiritus aus dem Baumarkt da. Hat prima funktioniert.
Die Gelatine mit dem Wasser in einem Topf ca. 10 Minuten quellen lassen und dann unter Rühren vorsichtig erwärmen. Nicht kochen!
Wenn keine Klümpchen mehr da sind, Alkohol und Glycerin hinzufügen und gut vermischen. Die Masse in eine Form giessen. Sollte sich Schaum auf der Oberfläche bilden, diesen mit Küchenkrepp beiseite schieben. Eventuelle Luftblasen auf dem Boden der Platte mit einem Silikonschaber entfernen, so kann die Platte beidseitig verwendet werden. 
Nach einigen Stunden kann die Platte entformt werden und ist bereit zum Drucken.
Recipe for a durable gelatin plate with glycerin
If you want to work with your plate over a longer period of time, there are ways to make the plates more stable and durable. This is particularly important for workshops lasting several hours!
There are many recipes on the internet, all of which are similar. It is not a question of adhering to exact quantities. I have used the following recipe several times for my workshop plates and it has worked for me.
For a plate about A4 you need the following ingredients:
8 sachets of edible gelatine at 9 grams
250 ml cold water
125 ml isopropyl alcohol 70%
125 ml glycerin
You can get alcohol and glycerine in the pharmacy. For larger quantities, it gets cheaper if you look it up on the internet.
I quickly poured the plate on the following photos during my last course in the evening, because there were a lot of questions about homemade Gelli plates. (Art materials are much more expensive in Denmark than in Germany) I only had simple spirits from the hardware store. Worked fine.
Let the gelatine swell with the water in a saucepan for about 10 minutes and then carefully heat up while stirring. Do not cook!
When there are no lumps, add alcohol and glycerin and mix well. Pour the mass into a mold. If foam forms on the surface, wipe it aside with kitchen paper. Remove any air bubbles on the bottom of the plate with a silicone scraper, so the plate can be used on both sides.
After a few hours, the plate can be demolded and is ready for printing.
Drucken mit der Gelatine/Glycerin Platte
Durch die Zugabe des Glycerins ist die Platte schön elastisch und wesentlich fester als die reine Gelatineplatte. Die Oberfläche neigt dazu, gerade zu Beginn etwas zu kleben. Dadurch lösen sich die ersten Farbschichten manchmal nicht so leicht. Das gibt sich aber meistens mit der Zeit. Es empfielt sich, die Platte von Zeit zu Zeit mit Wasser zu besprühen, welches zum Teil von der Platte aufgenommen wird. Auf der anderen Seite perlen stark verdünnte Farbaufträge nicht ab, wie das bei den Silikonplatten manchmal vorkommt.
Printing with the gelatin/glycerol plate
The addition of glycerine makes the plate nice and elastic and considerably more solid than pure gelatine. The surface tends to be a bit sticky, especially at the beginning. As a result, the first layers of paint sometimes do not come off so easily. But that usually clears up over time. It is advisable to spray the sheet with water from time to time, some of which will be absorbed by the sheet. On the other hand, heavily diluted paint applications do not roll off, as sometimes happens with the silicone plates.
Grundsätzlich könnt ihr mit diesen Platten genauso drucken, wie mit den gekauften Gelliplates. Leider habe ich auch hier bislang keine zufriedenstellenden Ergebnisse mit Bildtransfertechniken erzielen können.
Basically, you can print with these plates in the same way as with the purchased Gelliplates. Unfortunately I haven't been able to achieve satisfactory results with image transfer techniques here either.
Die hier abgebildete Platte hatte ich nach dem Workshop nicht ordentlich weggepackt, sodass nach einigen Tagen schon etwas Wasser verdunstet war und die Ränder sich gewöbt hatten. Optimal ist es, wenn ihr eure Platte zwischen zwei Glas- oder Plexiglasscheiben legt und luftdicht verpackt. So kann die Druckplatte Dank des Alkohols mehrere Monate halten.
Trotzdem konnte ich von der Rückseite noch einige zufriedenstellende Drucke machen. Ich habe mich dann aber entschlossen, die Platte einzuschmelzen und neu zu vergiessen.
I hadn't packed the plate shown here properly after the workshop, so after a few days some water had evaporated and the edges had curled up. It is best if you place your plate between two panes of glass or plexiglass and pack it airtight. The printing plate can last for several months thanks to the alcohol.
Despite this, I was still able to get some satisfactory prints from the back. But then I decided to melt down the plate and cast it again.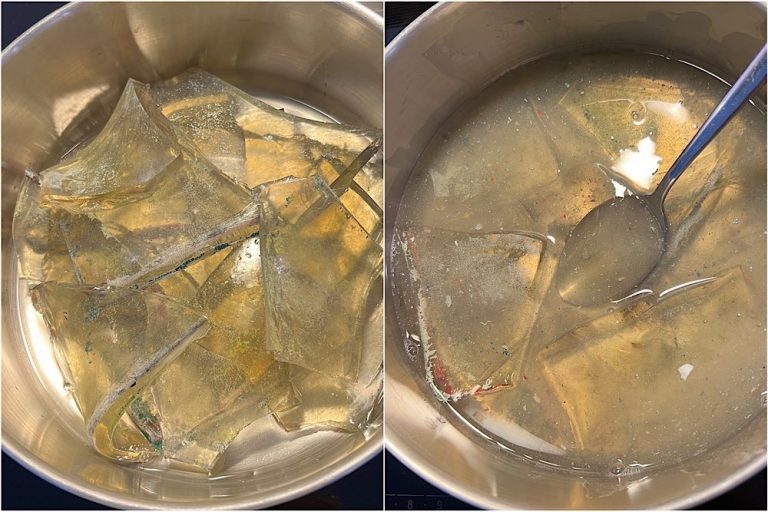 Das ist ganz einfach: Ihr zerteilt das Gelatinematerial in kleinere Stücke und erwärmt es zusammen mit ein wenig Wasser. Wenn die Masse wieder flüssig ist, kann sie in eine neue Form gegossen werden. Eventuelle Farbreste könnt ihr mit Hilfe eines Siebes entfernen, ich habe hier darauf verzichtet.
It's very simple: You break the gelatine material into smaller pieces and heat it up with a little water. When the mass is liquid again, it can be poured into a new mold. You can remove any paint residue with the help of a sieve, I didn't use it here, though.

Ich habe mich für zwei runde Formen entschieden. Auch wenn das Ergebnis durch die Eintrübung jetzt nicht mehr so hübsch aussieht, haben beide Platten weiterhin gut funktioniert…
I chose two round molds. Even if the result doesn't look so pretty anymore due to the cloudiness, both plates continued to work well…
Auch dickere Pflanzenteile konnte ich ohne Probleme abdrucken.
I was also able to print thicker plant parts without any problems.
Die kleine runde Platte hatte ich bewusst etwas dicker gegossen. Auf diese Weise funktioniert sie wie ein Stempel, den ihr bequem in die Hand nehmen und auf dem Untergrund platzieren könnt.
I deliberately cast the small round plate a little thicker. In this way, it works like a stamp that you can easily hold in your hand and place on the ground.
Die folgenden Bilder sind alle im Rahmen früherer Gelliprint/MixedMedia Workshops entstanden. Alle Drucke haben wir von den von mir vorbereiteten Platten gemacht. Die Ergebnisse sind durchaus mit denen der gekauften Platten vergleichbar (mit Ausnahme von Bildtransfertechniken)
The following pictures were all taken during previous Gelliprint/MixedMedia workshops. We made all the prints from the plates I prepared. The results are quite comparable to those of the purchased plates (with the exception of image transfer techniques)
Vielleicht war die eine oder andere Info ja nützlich für euch, schreibt mir gerne in die Kommentare, falls ihr noch weitere Tipps zum Drucken mit selbstgemachten Platten habt – ich freue mich darüber!
I hope, the informations were useful for you, feel free to write me a comment if you have any further tips for printing with self-made plates – that would be nice!