Normalerweise finden in den letzten Monate des Jahres besonders viele Workshops statt. Der Sommer ist vorbei und viele stürzen sich mit neuer Energie in einen kreativen Herbst. Dieses Jahr ist alles ein wenig anders – keine Workshoptätig "in Echt" für mich bis auf weiteres. So ist es nun und nachdem ich anfänglich etwas traurig war, befinde ich mich nun mitten drin in der Filmerei für Online-Kurse. Drei Projekte laufen hier gerade im Hintergrund- mal sehen, welches als erstes fertig wird 🙂 Ich halte euch auf dem Laufenden.
Usually there are a lot of workshops in the last months of the year. Summer is over and many are plunging into a creative autumn with renewed energy. This year everything is a little different – no in person workshops for me until further notice (outside of Kopenhagen, that means) That's how it is for now and after I was a little sad at first, I am now in the middle of filming and editing online courses. Three projects are currently running in the background – let's see which one will be finished first 🙂 I'll keep you updated!
Aber von einem kleinen Workshop möchte ich euch dann doch noch etwas ausführlicher berichten, war es doch der allererste Tageskurs, den ich in meinem Atelier in der Rørholmesgade 19 in Kopenhagen ausgerichtet habe. Ein Anfang ist gemacht! (Und wir mussten nur einmal um eine Woche verschieben, wegen eines noch ausstehenden Testresultats 🙂 )
But I would like to tell you about a small workshop in more detail, as it was the very first day course that I held in my studiospace at Rørholmesgade 19 in Copenhagen. A beginning at least! (And we only had to postpone it one time for a week, because of a pending test result :))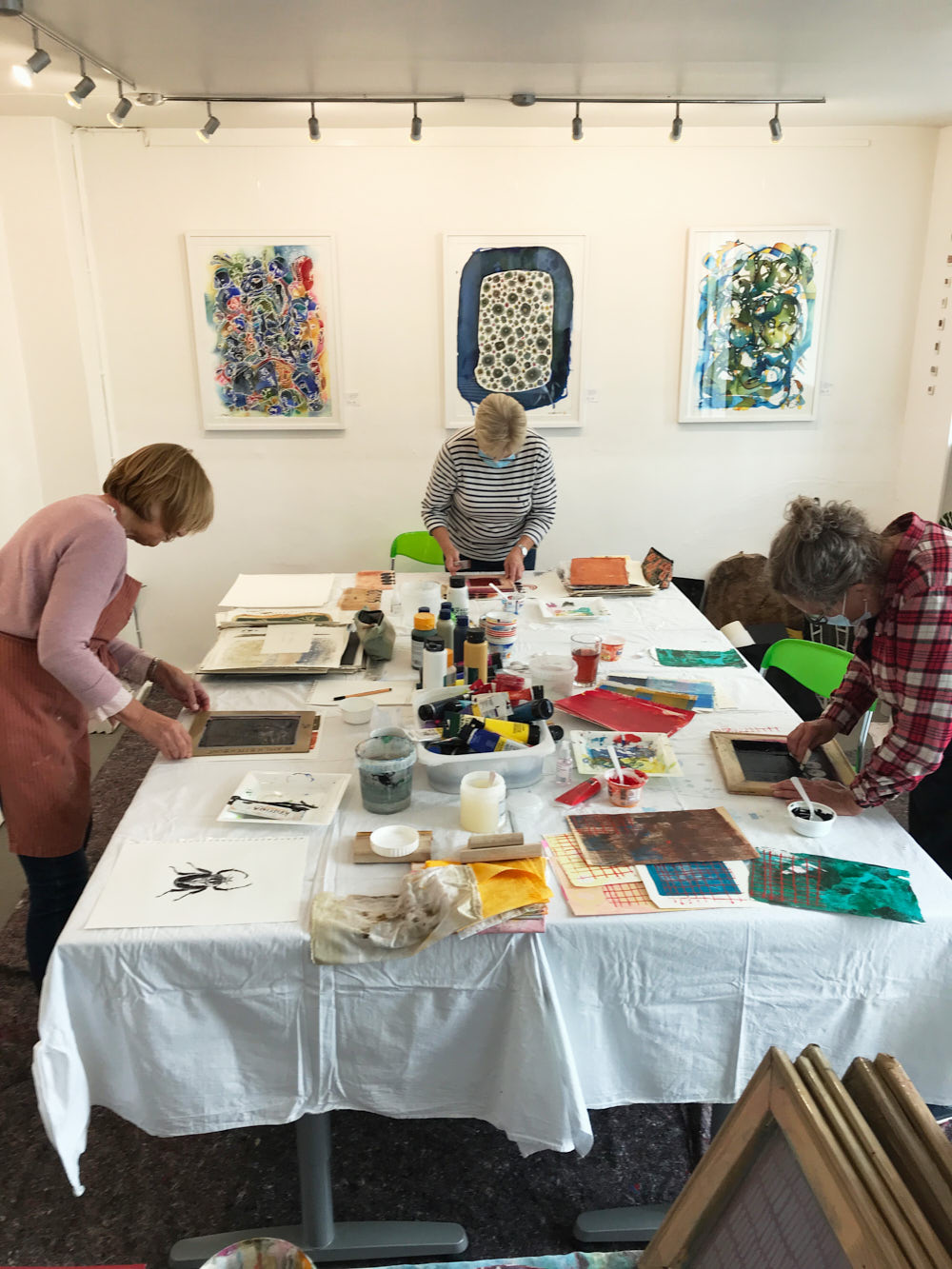 Anne, Merete und Gitte hatten sich zum Siebdruckkurs angemeldet. Und so haben wir dann einen sehr schönen Kreativtag zusammen verbracht. Ich hatte meine Sammlung von kleineren Motivrahmen, Acrylfarben und Siebdruckpaste bereitgestellt und die Damen brachten jede Menge verschiedene Papiere zum bedrucken mit.
Anne, Merete and Gitte had registered for a screen printing course. And so we spent a very nice creative day together. I had prepared my collection of smaller motif frames, acrylic paints and screen printing medium and the ladies brought a lot of different papers with them to print on.
Nach einer kurzen Einführung ging es schon los, und Tische und der Boden füllten sich schnell mit Papieren.
After a brief introduction, the ladies started printing and the tables and the floor quickly filled with papers.
Und unter den Tischen war zum Glück auch noch Platz!
And luckily there was still space under the tables!
Ich kenne alle drei schon länger und alle hatten bereits Kurse unter anderem zum Thema Gelliprinting bei mir besucht. Daher kamen alle drei extrem gut vorbereitet- sprich, mit jeder Menge Gellidrucke im Gepäck – zum Kurs. Die optimalen Hintergründe für Siebdruckexperimente!
I have known Gitte, Merete and Anne for a long time and all of them had already attended courses on gelliprinting with me. Therefore, all three came to the course extremely well prepared – in other words, with a lot of Gelli prints in their luggage. The ideal backgrounds for screen printing experiments!
Die Kombination der zarten, malerisch anmutenden Monotypie-Hintergründe mit den grafischen Motiven und Mustern gefällt mir sehr sehr gut!
I like the combination of the delicate, monotype backgrounds with the graphic motifs and patterns!
Ich kann mir gut vorstellen, nächstes Jahr einen Kurs Gelliprint und Siebdruck anzubieten, was meint ihr?
I really like the idea of offering a Gelliprint and Screen Printing course next year, what do you think?
Auf jeden Fall habe ich mir im Atelier schon einmal einen Stapel mit neuen Siebdruckrahmen zurechtgelegt, die ich so nach und nach mit Gewebe bespanne um meine Motivsammlung für die zukünftige Workshopsaison in 2021 zu erweitern.
 I have already put together a pile of new screen-printing frames in the studio, which I will prepare over the next few weeks to expand my collection of motifs for the future workshop season in 2021.