Nun bin ich also wieder zu Hause in Kopenhagen nach einem verlängertem Wochenendworkshopaufenthalt in Lauenbrück (falls Ihr es nicht kennt, Lauenbrück liegt mehr oder weniger genau zwischen Hamburg und Bremen).
Mein neuer alter Blog hier ist ja immer noch ein wenig kahl, aber hiermit nehme ich meine alte Bloggertradition wieder auf, etwas ausführlicher von meinen vergangenen Workshops zu berichten. Das habe ich vor Instagram auch getan und so soll es auch zukünftig wieder werden.
Siebdruck auf Stoff stand auf dem Programm für diesen extralangen Kurs. Extralang deshalb, weil alle Teilnehmerinnen und ich auch direkt im Ferienhof Bollenhagen untergebracht waren und wir deshalb die Möglichkeit hatten, in einem der Kursräume auch nach dem offiziellen Workshop noch zu werkeln oder zu nähen oder zum Beispiel Schablonen für den nächsten Tag vorzubereiten. Wobei so ein langer Siebdrucktag auch ganz schön anstrengend ist und die Damen sich mächtig in`s Zeug gelegt haben, so dass wir am Abend auch rechtschaffen müde waren 🙂
I'm finally back home in Copenhagen after a long workshop weekend wo in Lauenbrück, Germany (if you don't know it, Lauenbrück is located more or less exactly between Hamburg and Bremen).
My new old blog here is slowly coming to life again, and here I am resuming my old blogging tradition of reporting on my past workshops in more detail. That's what I did before Instagram and that's how it should be again in the future.
Screen printing on fabric was on the agenda for this extra long course. Extra long because all the participants and I stayed over night directly at Ferienhof Bollenhagen and we therefore had the opportunity to work or sew, or to prepare templates for the next day in one of the course rooms after the official workshop program for the day was finished. Although a long day of screen printing is quite exhausting and the ladies have really put themselves into it, so that we were really tired in the evening 🙂
Das Wetter war perfekt spätsommerlich und es war richtig schön, zum Essen draußen sitzen zu können.
The weather was perfect and it was really nice to be able to sit outside to eat.
Das hier ist der "Ole Hoop", eines der beiden Häuser des Ferienhofs. Beide häuser sind mit einem großzügigen Kursraum ausgestattet, so konnten wir ohne Probleme Abstand halten.
This is the "Ole Hoop", one of the two houses of the Ferienhof, where you can book rooms and apartments. Both houses are equipped with a spacious course room, so we could keep social distance without any problems.
Am Freitag dann haben wir Siebdruckrahmen gebaut und bespannt und verschiedene Motive als Papierschablonen gestaltet und ausgeschnitten.
On Friday we built and stretched our own screen printing frames and designed and cut out various motifs as paper templates to print from.
Ein Leuchttisch ist zum Durchpausen von Motiven eine feine Sache und mehrere Teilnehmerinnen hatten ein solches Gerät dabei. Ich musste feststellen, dass da offensichlich der technische Fortschritt an mir vorbeigerast ist 🙂 Der Leuchttisch, den wir zu Hause haben, ist bei gleicher Fläche doch eher unhandlich- ich glaube, so eine kleine Variante muss ich mir auch noch mal zulegen bei Gelegenheit!
A light table is a great way to trace motifs and several participants had such a device with them. I had to realize that the technical progress had obviously rushed past me 🙂 The light table that we have at home is rather unwieldy and thick for the same size – I think I'll have to buy such a small one when I get the chance!
Nachdem die Rahmen und Schablonen fertig waren, ging es dann in die Schule, die wir über das Wochenende zum Drucken nutzen durften, zum "Warmdrucken".
Britta hatte für alle, die wollten, schwarzen Köper bestellt und ich bin schon sehr gespannt darauf, ob in den nächsten Tagen vielleicht die eine oder andere bedruckte Schürze fertiggenäht wird 🙂
After the frames and stencils were ready, we went to the school, where we were allowed to use the artroom for printing over the weekend, to start with the first prints and to get used to squeegee and frame.

Britta had ordered black twill for everyone who wanted and I am very excited to see if one or the other printed apron will be sewn in the next few days 🙂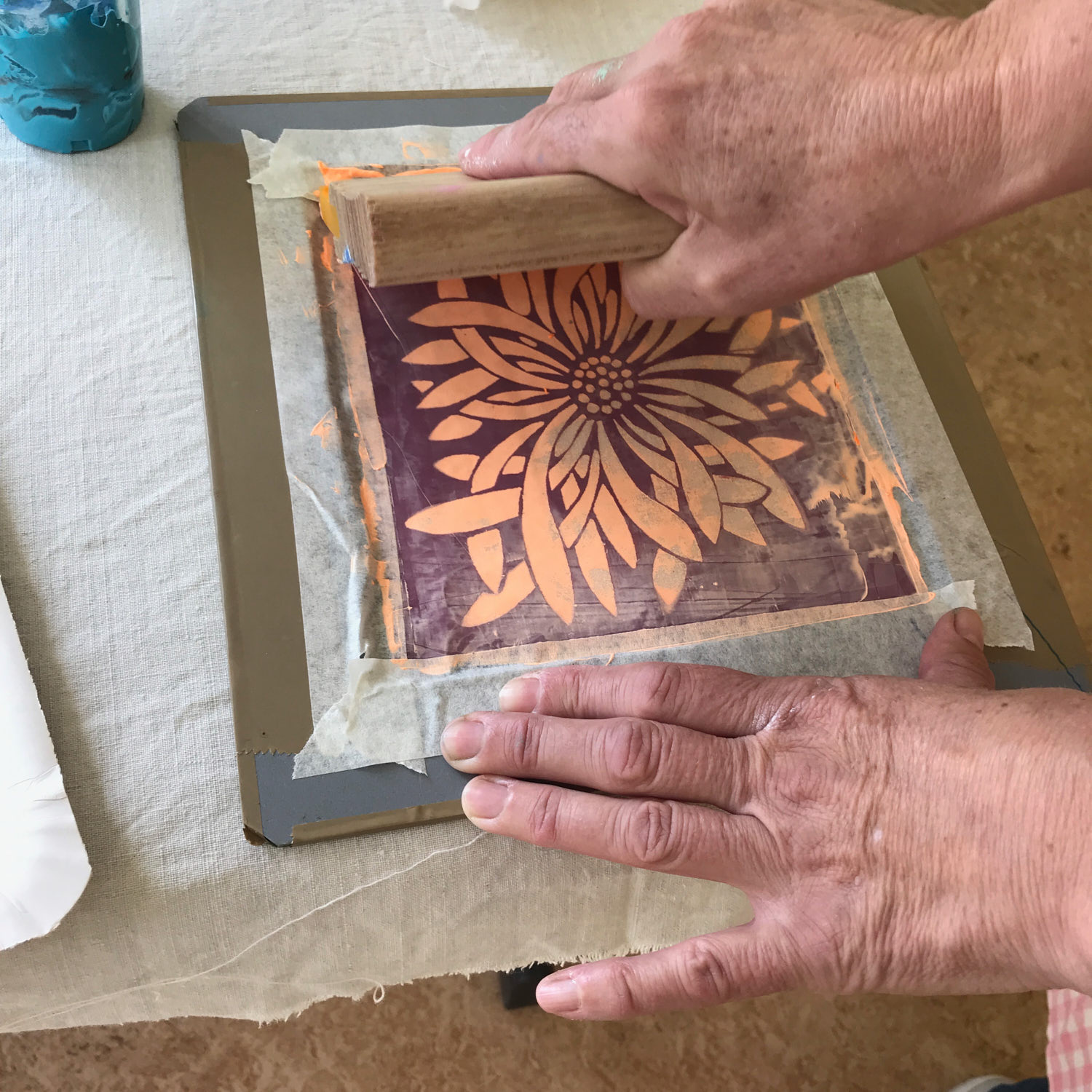 Ich hatte die Reise nach Lauenbrück mit zwei großen Koffern angetreten. Einer davon voll mit Siebdruckrahmen, die ich zuvor mit verschiedenen Motiven belichtet hatte.
I started the trip to Lauenbrück with two large suitcases. One of them full of screen printing frames that I had previously exposed with various motifs.
Nach dem Abendessen wurden dann noch Schnittmuster begutachtet und getauscht, noch weitere Schablonen geschnitten und auch schon die ersten Stoffe passend zugeschnitten.
After dinner, patterns were examined and exchanged, more templates were cut and the first fabrics were precut.
Der Samstag war dann unser Hauptdrucktag. Von 10.00 bis 18.00 wurde gesiebdruckt, was das Zeug hielt und eine Stoffbahn reihte sich an die andere. Wie gut, dass wir uns über die Flure ausbreiten konnten 🙂
Saturday was our main printing day. From 10 a.m. to 6 p.m. everybody was screenprinting a storm and one piece of fabric lined up next to the other. How good that we could spread out across the hallways 🙂
Hier nur ein kleiner Ausschnitt ihrer Drucke – zu schön! Was wohl daraus wird?
Here is just one picture of some of her prints – so beautiful! I am wondering what she will be making of them?
Und dieser tolle, teilbedruckte Jeanswalfisch, den Susanne genäht hat, wurde direkt am Sonntag verschenkt.
And this great, partially printed denim whale that Susanne sewed was given away as a gift already on Sunday.
Einige Bilder vom Kurs und die beiden Videos habe ich bereits auf Instagram gezeigt, für alle Instagramlosen unter euch hier noch mal im Blog. Der Film mit den tollen Endergebnissen wäre noch viiiiel länger geworden, hätte ich wirklich jedes bedruckte Stoffstück gezeigt- es war wirklich eine Fülle von Druckwerken 🙂
Vielen Dank an die netten Teilnehmerinnen Gesa, Petra und Petra, Susanne, Christiane, Bea, Brigitte, und auch an Britta, die uns nebenbei auch noch so prima mit Speis' und Trank versorgt und dafür gesorgt hat, dass der Workshop stattfinden konnte.
Habt Ihr Interesse an Workshopterminen für das nächste Jahr? Dann abonniert gerne meinen Newsletter. Dann seid ihr immer auf dem Laufenden, was Neuigkeiten rund um Workshops sowie Atelierevents in Kopenhagen angeht. Ich freu mich 🙂
I have already shown some pictures from the course and the two videos on Instagram, for those of you who don't have Instagram here they are again in the blog. The film with the great end results would have been much longer if I had really shown every piece of printed fabric – it was really a wealth of printed works 🙂
Many thanks to the nice participants Gesa, Petra and Petra, Susanne, Christiane, Bea, Brigitte, and also to Britta, who also provided us with excellent food and drink and made sure that the workshop could take place.
Are you interested in workshop dates for next year? Then subscribe to my newsletter. Then you will always be up to date with news about workshops and studio events in Copenhagen. That would be nice 🙂